Cook, Wine and Dine in Paris
This Wednesday evening, WineBySteph and Le Foodist have once again organized a Cook, Wine and Dine in the Latin Quarter of Paris, rue du Cardinal Lemoine. An oenological animation, that lasted 3 hours, took place around dinner, laughter and wine.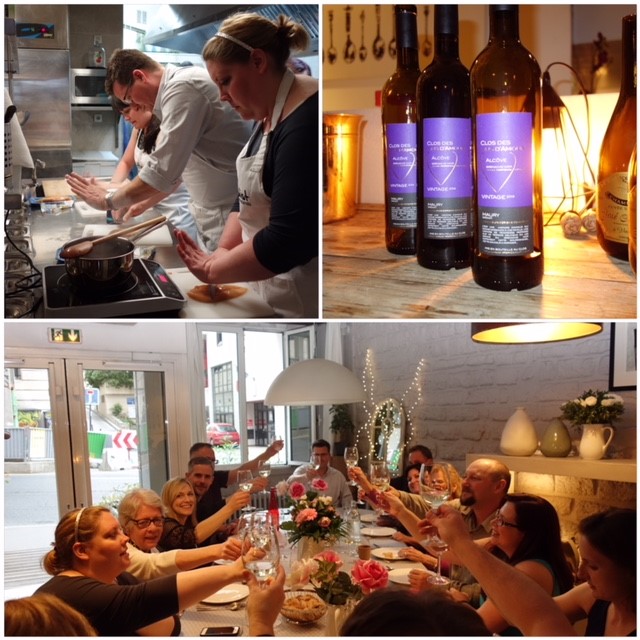 Through Cook, Wine and Dine in English, Fred Pouillot and Stéphane Bonnerot offer guests the opportunity to discover some French culture with 5 dishes, 5 wines and 1 champagne. This oenological animation is above all a moment of gathering, exchange and conviviality.
During the animation, the guests were the cooks! The concept: cooking the meal of the evening in several teams with the help of Fred Pouillot and his cooks, then dine in a festive atmosphere around a French Wine Tasting hosted by our oenologist Stephane Bonnerot. An example of French dishes and wines paired: Coq au vin with small vegetables accompanied by mashed potatoes with a Chateau Bellevue Saint-Emilion organic wine.
The experience is always in English and allows gourmet dinner together. This unique experience at Cook, Wine and Dine comes from the surprising culinary stories, historical anecdotes, the interactive quiz and the energy and enthusiasm of Stéphane to animate throughout the dinner.
You can request a quote for this custom-made experience that takes place from 8pm to 11pm. To do this, simply go to http://www.winebysteph.com/en/agenda and choose the dates that follows you according to the calendar.