Wine and Cheese Tasting in Paris
WinebySteph organized a Wine and Cheese Tasting in Paris on Saturday, April 28, 2018. The event was 2 hours in the Latin Quarter, rue du Cardinal Lemoine, in a charming place with a rare interior architecture: "Le Foodist". Under a breathtaking stone arch and subdued lighting, guests gathered around the table to enjoy a warm gourmet moment.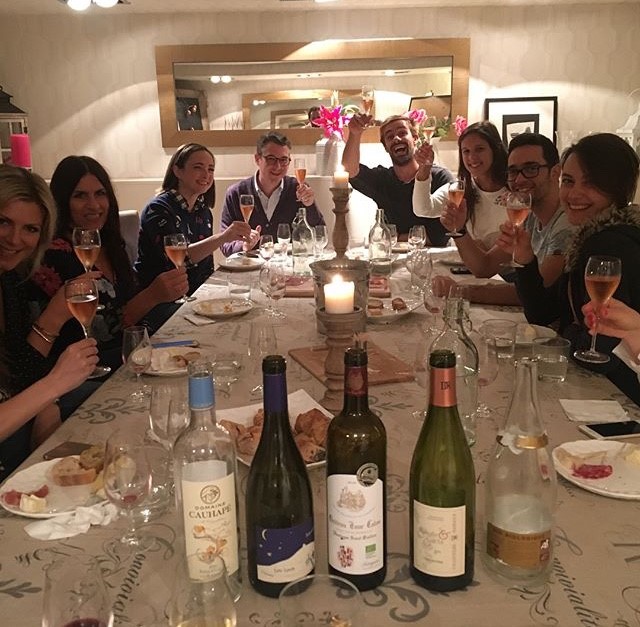 On the French Wine and Cheese Tasting menu are two white wines, two red wines and a champagne selected by Stéphane Bonnerot that have the distinction of being tasted blind. They are accompanied by 5 French PDO cheeses from the Laurent Dubois cheese shop in the 15th district.
This Wine and Cheese Tasting workshop is always in English. A real conviviality was quickly created around a big table with this animation despite people having different levels of wine knowledge and of different origins.
Our professional oenologist Stephane was there to set the mood! Between humorous techniques for tasting the wine, an interactive quiz on wine and cheese, the opening of a champagne bottle with a sword ... You will come out pleasantly surprised and entertained!
During this Wine and Cheese in Paris, Stéphane led this workshop around a clear speech while introducing the guests to the specific vocabulary of the wine. It is accompanied by a great map of France that Stéphane Bonnerot told stories, anecdotes for guests to discover where the wines and French cheeses come from.
The tasting, combined with Stéphane's knowledge and humor, make this activity ideal for wine lovers in a warm and festive atmosphere. It allows you to grow in your knowledge of the French culture through the harmony of wines and cheeses from beautiful French regions.
Since its opening in 2013, and in partnership with the Foodist, this Wine and Cheese Tasting in Paris has had 5 star ratings on Tripadvisor:
"Conviviality and discovery! I did the" Dairing Pairing "at lunch time and had a great time. I really appreciated the small size of the group, the fact of sharing this moment with tourists visiting Paris and being able to exchange with them about our culture. Stéphane has the art of transmitting his know-how with good humor and many anecdotes to discover fine wines and delicious cheeses in unexpected chords. A great idea for relaxation, a time with friends or a birthday. Reviewed October 19, 2015 by Florence P, Châtillon, Paris.
You can register now or in this interactive workshop which takes place on Mondays, Wednesdays, Fridays and Saturdays from 12h to 14h. To do this, simply go to http://www.winebysteph.com/en/agenda and choose the date according to the calendar.
For all wine lovers, we offer another fantastic wine workshop, Discover French Wines in 6 Glasses, which takes place on Monday and Saturday from 17h to 19h at the Foodist.